by Senji on Jun.28, 2011, under News, Reviews
Review- Ziterdes Guest House
http://www.ziterdes.de/ziterdes/de/
Although I'm fully capable of making my own terrain, I've grown fond of buying pre-
made pieces. Sometimes I just have too many projects going on and a company like
Ziterdes produces quality products that can go on my tabletop.
Ziterdes is based in Germany and has been making fantasy and gothic sci-fi scenery since 1997.
All of their pieces come pre-painted and are cast out of rigid
urethane foam, which makes them very lightweight and durable.
Although made out of foam, each piece in the line is loaded with detail and can be easily
converted with a little cutting and sanding.
All Ziterdes scenery is designed for use with 25-28mm figures.
The Guest House
The Guest House is an old Tudor style house. It measures 9″X5″ and stands 7 1/4″ high.
There are a lot of little details on this piece which make it stand out. I'm surprised at how
well the foam casting captures the detail.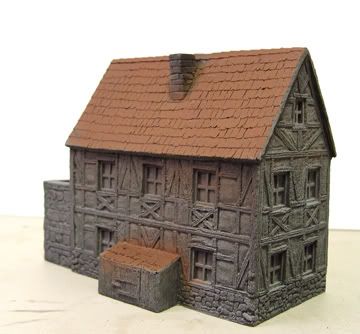 The roof is covered in wooden shingles that will dry brush well. The wooden beams
really stand out on the building. All of the stylized grain is visible and deep enough that
dry brushing will pick up the detail.
The granite staircase and the stone foundation have varying sized blocks. Some of the
blocks are indented which makes it visually appealing.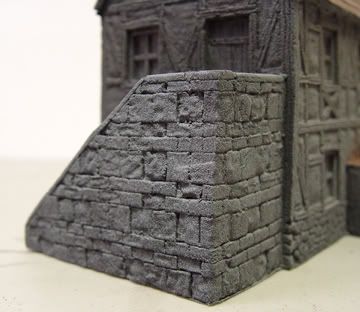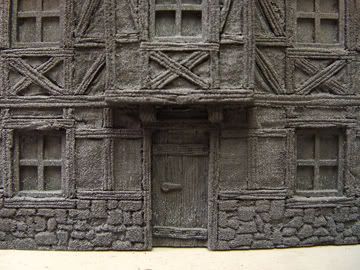 Since the building is made out of foam, it is easy to cut out the windows should you want
to light the building up.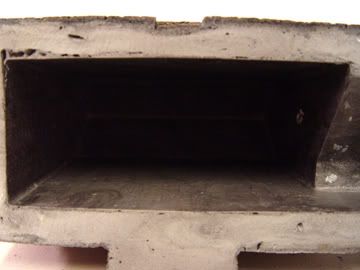 Other notable features are the detailed doors and the shed at the back of the building.
This building would make a great objective or would be a good addition to a city block.
There are several other Tudor style building made by Ziterdes and all of these together
would make a nice city center.
Below are pictures of the building painted.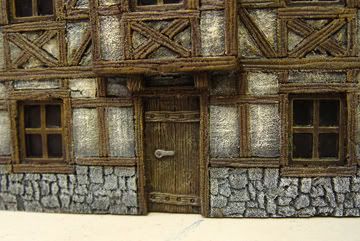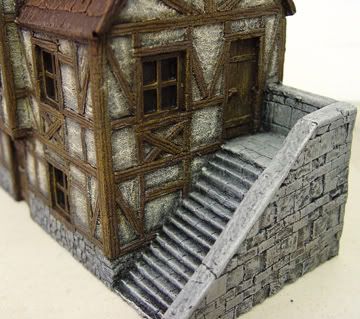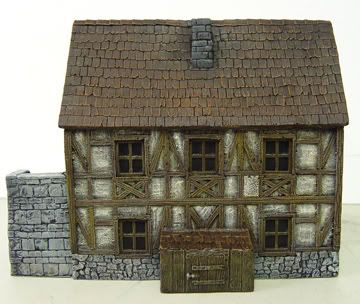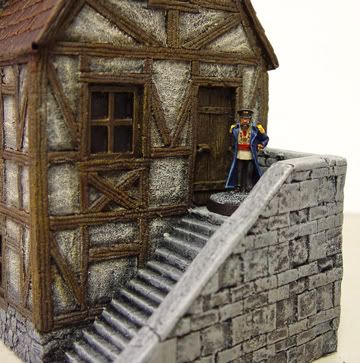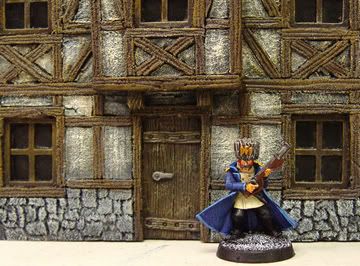 If you don't see Ziterdes products at you local gaming shop ask them to bring them in
through ACD Distribution.