by Senji on Jun.05, 2011, under Reviews
Review-Hirst Arts Molds By Pat Ohta
The molds from Hirst Arts make building wargaming terrain easy. Now with a couple of molds and a little bit of time you can make something like a highly detailed castle centerpiece for you gaming table.
There is no need to sculpt stone blocks, or figure out how to make things such as arched windows. Aside from gaming, the molds can be used for dioramas and display boards in 25mm-28mm scale. You can also use a mix of different molds to make a standout display piece, since all of the blocks are designed in 1/4″ increments.
There are approximately 100 different molds available to order, and they come in ten categories- castle, gothic, fieldstone, cavern, village, Egyptian, Roman, sci-fi, floor, and roof. All that is missing is molds for items such as furniture and accessories.
The silicone molds are designed for use with gypsum-based products such as dental plaster, but you can also use resin.
As a terrain maker, I was not interested in Hirst Arts molds to make their intended pieces. What I love them for is to take certain parts of the molds and use them to customize my pieces.
This article will focus on two of the science fiction molds, series #273 Pipe Floor Mold, and #279 Large Grate Accessory Mold.
I'm always on the lookout for parts to make terrain with. I have bins and bins of parts full of things I can use to detail a building, a bunker or a wall. However, it is hard to find certain items in the sizes I am usually looking for. I never have scenic details like fans and ladders when I need them. Sure you can scratch build them, or buy toys and salvage parts off them, or get costly parts from manufactures, so having molds that
make these parts is a dream come true.
Mold #273 Pipe Floor Mold
This mold makes diamond plate floor tiles and different lengths of inlaid piping. In total there are 13 pieces to the mold.
This mold works for all industrial and most science fiction settings.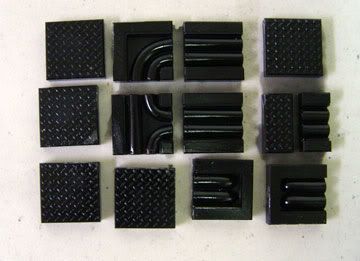 Mold #279 Large Grate Accessory Mold
This mold can be used for almost any setting. It makes 16 pieces, some of which are fans, ladders, hatches, ramps and pipe grills.
Casting
I recommend using dental plaster to cast your blocks. There are several different brands of dental plaster and they all have slightly different properties. The main point is it is much harder than Plaster of Paris and therefore your gaming pieces will not easily chip and will last for a long time. Below are some very basic casting instructions. More advanced techniques are available on the Hirst Arts website.
Before you start casting be sure to wash your mold with soap and water.
Mix the plaster according to the directions on the box. Mixing your plaster too thin will result in an easy pour, but a weaker cast. Mixing your plaster too thick will result in a stronger cast, but it will probably also result in miscasts and air bubbles.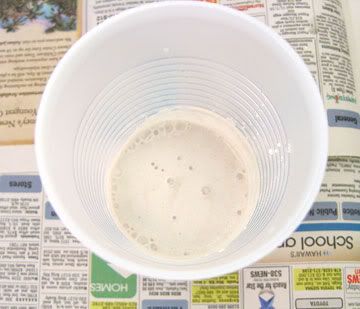 Start by pouring the plaster into one corner of the mold. This will help prevent air from being trapped in the mold.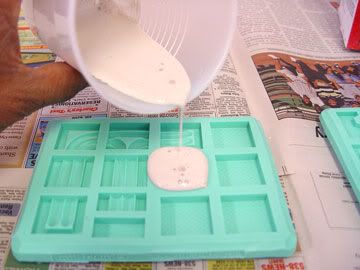 Take a toothpick and stir the plaster in the corners of the mold to release any trapped air.
Level the tops of the mold by scrapping the top with a wallpaper scraper or putty knife. This is important so your cast blocks lay flat. In the picture I used a chopstick, however.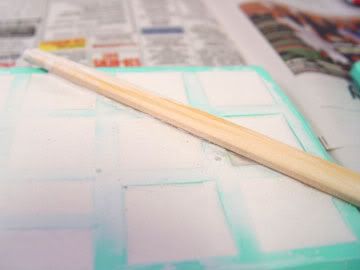 Let the plaster dry for approximately 30 minutes. It could take longer depending on the humidity in your area.
Carefully pop out the cast items. By flexing the edges of the molds the pieces will easily pop out.
Now you have just finished casting your first mold. Repeat this process until you have enough pieces to make your project with.
Assembly
Sand the backs of your cast pieces to insure that the pieces are level. Do this by placing the cast piece on sand paper and rubbing it back and forth.
Assemble the pieces by gluing the blocks together with wood glue or solvent based glues like Cyano Acrylics or Liquid Nails.
For a natural look, the plaster blocks can be stained or dyed using products like Woodland Scenics Earth Color Kit
Now your piece is ready for primer and paint!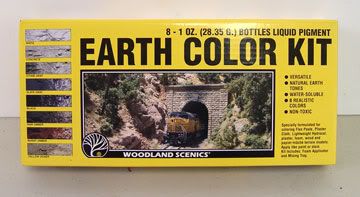 Storage
Wash your molds with soap and water, and let dry.
Sprinkle a light coating of talcum powder on the mold. This will help prevent the mold sticking to other molds.
Store the molds flat so they do not warp.
This picture shows a mixture of the two molds together. I added a small ramp from mold #279 to the pipes and flooring of #273. The pipes are great and can be configured into any shape you need. The mold comes with curved, straight, intersection and end pieces.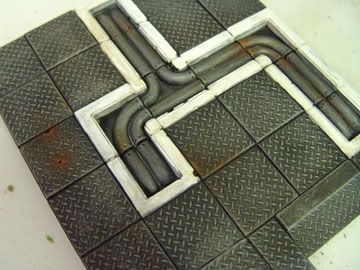 The same piece is added to an industrial board. All that is missing is a tank to go in the corner.
The pipe floor mold can also be used as a wall accessory. Here I used it on a brick wall.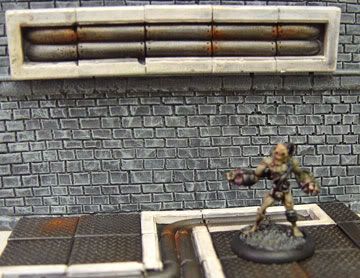 When glued together, the door pieces from #279 can be made into a sci-fi wall. The two tubes in the wall can be painted to look light they are glowing or lit up.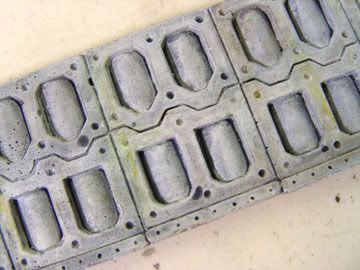 This picture shows the ladder and a pipe (from another manufacturer) against the wall. This could be used for a sewer setting.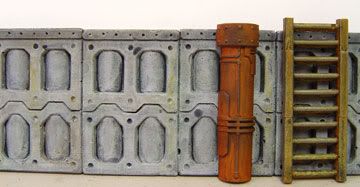 This is the broken grate that comes with #279.
These are the fan and grill pieces from #279. The fan and grate can be used with the frame that comes with the mold or can be housed in a pipe like I did here.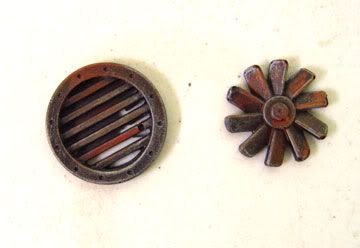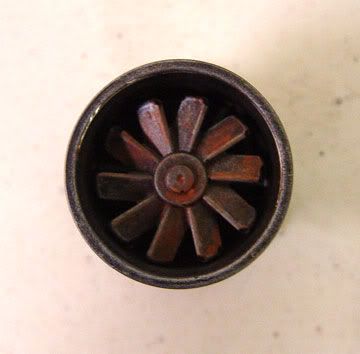 I highly recommend buying the Hirst Arts molds. I now have several as part of my terrain making arsenal. They are easy to use and if properly cared for will last a long time.
The Hirst Arts website has a wealth of easy to read and understand information. You will find building plans, better casting instructions, lots of tips and tricks and much more.
Hirst Arts molds are only available on their website. You can see everything
here http://www.hirstarts.com/